Those were some cool f#*@ing Chairs- Bouchercon Memories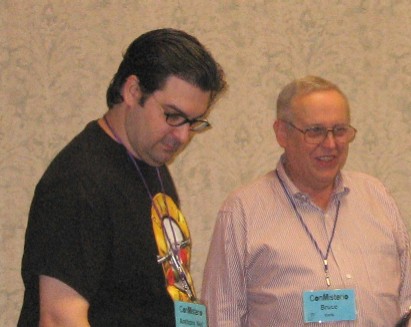 Hello All,
As you know if you've been checking in I've been slacking on the Bouchercon Memory front. Poor Graham over at Crime Spot. He puts me on his list and I go down to twice a week. The truth is I've been busy. But I'm back and motivated. Baltimore is coming fast. For all of our friends and acquaintances who've been waiting for an e-mail asking for a memory, please go ahead and just send me one at ruth@crimespreemag.com. A little business first and then on to an appropriate and great memory. You'll see in just a minute…
About the Anthony Awards… Please if you've received a ballot, take a minute and fill it out. If you want to save the price of a stamp e-mail John Purcell. His e-mail is at the top of your ballot and he'll send you to fill out via computer if you so choose.
Also, for those 100 or so people who e-mailed us last year asking where to submit your book for consideration for the Anthony… I've talked about it on this blog, you've heard it at and within different venues but the Anthony is, and always was, the People's Choice Award of the Mystery World. If a person has attended the previous convention or is registered to attend the current convention by the cut off date, they are sent a blank ballot and asked to submit their five favorites in every category. Don't have five? Send the ones you do… they will count. The Anthony is not a committee award but an award that comes from your community. This is what makes it special… We've only got 15 days left people, so if you want to be part of the process, register for Charmed to Death by April 15th. Remember a pool of about 3,000 people who read every day are responsible for these nominations.
And now, on to the show….
Today's guest is one of mystery's most generous people. He'd tell you differently. He likes to think he's a hardboiled guy and pictures of him smiling are rare. Anthony Neil Smith is one of our great souls, a teacher by day, an author hungry to write the best novel out there by night. He is a harsh critic and a great teacher. The web site Plots with Guns produced some of the first stories from authors everyone talks about today. Neil is an amazing editor, giving Plots with Guns a quest for substance that outweighs many "in-print" anthologies. I'm happy to report it's back. Better yet? The book YELLOW MEDICINE is surreal and excellently executed. If anyone had told me I'd ever read a book about Meth and Terrorism set in the cold Midwest without having to reach far, far into my suspension of disbelief, I'd have given them "the look". You all know "the look". Neil embraces "the look". But in what is both a marriage of and an evolutionary leap from his first two published novels, Neil puts the yellow back into the snow and the medicinal effects back into mystery. Humorous, Frightening and altogether Real, YELLOW MEDICINE stands out. He's going to hate my fragmented sentences, but one woman's opinion……
"My first Bouchercon was D.C., 2001. Flew into Reagan National about six weeks after 9/11. And it was touch and-go on if the airport would even be open, but it was--alas with armed National Guard brigades.
What I'll never forget is how, within the first few hours of arriving on Thursday, Victor Gischler and I had settled in at the bar and started gathering people over to have a drink with us. Several PWG writers, plus Vicki Hendricks and my friend Martin Hegwood, which led to Vicki introducing us to Michael Connelly, which eventually led to us meeting Sean Doolittle, coming over to crime from the horror clique right as DIRT had been published. What surprised us was how it all felt so comfortable. Still a little star-struck, but not so much. We were finding our place in the crime fiction community, and having a good time drinking as we did.
I swear I met at least thirty or forty people I'd only known through email before. And it started to show us that, yes, folks were reading the stuff we were writing. Then we got to hobnob with the guys from Uglytown, Jim and Tom treating several of their authors (and me) to dinner at a Korean barbecue joint.
Gischler and I also took a whirlwind tour of the Mall, stumbling across a Smithsonian exhibit of some famous furniture maker. Those were some cool fucking chairs."
Until next time… don't change that channel….
Ruth & Neil
Labels: anthony awards, Bouchercon, Charmed To Death, neil anthony smith, yellow medicine